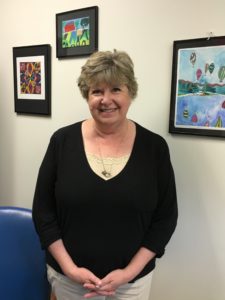 1. What is your occupation?
My current occupation is assistant principal for FCPS but I will be retiring June 30.
2. How long have you been a member of the board at CLI?
I have been a member of the CLI Board for over 15 years (I think!).
3. Why did you join the board?
I joined because in my educational career for the last 35 years with FCPS, I was a Special Education teacher for eleven years, teaching at Rock Creek School, and many of the students and families I served then are now part of the Community Living family and I saw this as a way to continue my service.
4. What does CLI's mission mean to you?
Because of my educational background, CLI's mission is very personal for me.  I saw first-hand the need to provide seamless, ongoing, appropriate and high-quality care and access to the same quality of life activities and services we all are entitled to throughout our lives.  CLI is dedicated to that mission.
5. What is your favorite summer activity?
My favorite (not just summer now!) activities are gardening,  traveling with friends and family, and spending time with my brother and his family in Boulder, CO.